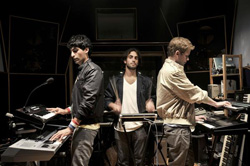 Contest closed -- Congrats Trevor P. / Jamie D. / Rick R.)
Our friends at Popscene hooked us up with a few pairs of tickets to giveaway to Thursday's Hey Champ party at 330 Ritch.
To enter, just email heychamp@epicsauce.com by 3pm Thursday.
And when you email, let us know if it is cool to add you to the epicsauce weekly wooot email list. We think you will dig the ad-free / no allegiance flavor!